CDP Receives Bronze Linguamarque Accreditation
Back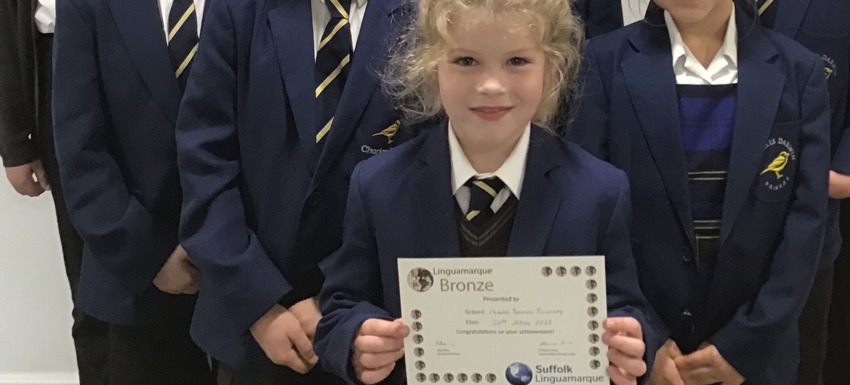 May 24th 2022
At Charles Darwin Primary, we firmly believe that all children have the right to learn a language. Article 30 (UNICEF rights respecting) states that every child has the right to learn and use the language, customs and religion of their family, regardless of whether these are shared by the majority of the people in the country where they live.
Foreign language learning opens children up to other cultures and deepens their understanding of the world. We have worked rigorously to create an inclusive and engaging curriculum that all children are able to access involving high-energy lessons, with an initial focus on listening and speaking. Pupils and teachers alike, have embraced French at school, many of them using the new language learnt daily in their interactions.
Receiving the Bronze Linguamarque Accreditation is prestigious because very few schools within the local area have achieved such an accolade. This is a credit to the MFL Subject Lead at Charles Darwin, Kelly Evans who works closely with the Subject Specialist Lead at the Inspiration Trust, Nina Torin.
Mr Sullivan, Principal at Charles Darwin Primary and Nursery, said "We are over the moon with this accreditation as it confirms the excellent work of both our staff and children. We recognise the importance of providing our children with the opportunity to learn a second language. They love their weekly French lessons and have had an opportunity to use their French to greet parents after school. We are now excitedly working towards the silver accreditation!"